Introduction
The One-year Post Graduate Programme in Development Leadership (PGP-DL) is a course for bright, young individuals who are passionate about working in the social sector and would like to build careers in Development Management. The PGP-DL helps you to build perspectives, knowledge and skills, unique to the development sector. On completion of this programme, students would work in Indian and International NGOs, Foundations, Aid Agencies, Corporate Social Responsibility (CSR), Social Enterprises or become Social Entrepreneurs.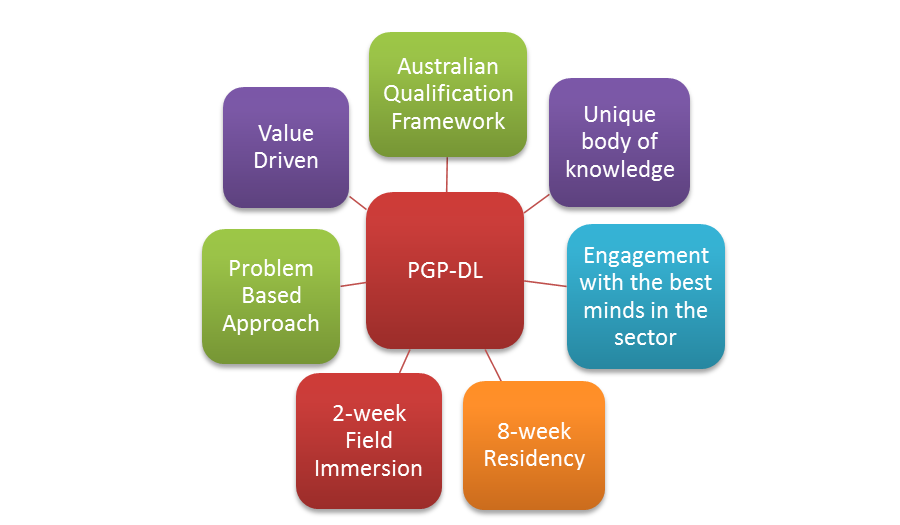 Internationally recognized Australian Qualification Framework has been adopted as the competency framework for the PGP-DL curriculum. Based on AQF, the program incorporates Knowledge, Skills and Application components. The course has been designed with inputs and insights from eminent leaders, academicians and practitioners from around the world. Students will have the unique experience of engaging with some of the best minds that are practising, researching and teaching various dimensions of the domain.
In order to build a contextual connect, students will have a two-week field immersion as part of 'Realising India' and an eight-week residency with a partner development organisation. Other structured experiences will include film shows, book/article discussions, discussions around contemporary news, guest lectures and interactions with practitioners and activists, conversations with politicians and bureaucrats, inviting street theatre artists, etc. This unique opportunity for praxis and reflection will be an enriching experience for students, preparing them as insightful development leaders and managers
A central feature of PGP-DL is the Problem Based Learning Approach. The PBL Approach is a process-oriented approach related to real-life issues and the development of problem solving skills. This approach as part of PGP-DL equips students to become autonomous and reflective practitioners who can apply knowledge in the context of development sector in India.
Programme Overview
Campus
Fees & Financial Aid
Apply Now