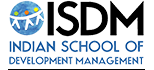 Longitudinal study with ISDM Alumni
ISDM is committed to building leadership and management practices in organisations which are grounded in universal human values and embody ways of being, thinking, doing and learning informed by the systems approach. ISDM aims to facilitate the creation of a community of professional leaders and managers for the social sector. These professional leaders and managers will make a significant difference to the impact, scale, relevance and sustainability of organisations working for the betterment of society and enhancement of quality of life for all.
With a strong action bias, ISDM is working towards co-creating new normative(s) of organisational engagements with complex social issues, through the creation of a Body of Knowledge which is indigenous to the context of India and draws from the new frontiers of knowledge and experiences of leadership practice evolving across the globe.
The Post-Graduate Programme in Development Leadership (PGP-DL) is one such initiative of ISDM which is aimed at developing professional, socially-aware, deeply sensitive, reflective managers and leaders for the full spectrum of organisations in the Development Sector including voluntary organisations, corporate social responsibility entities, social enterprises, not-for-profit NGOs and Companies, funding organisations, social impact investors, etc. So far more than 120 students from across the country have journeyed with us through the PGP-DL programme.
ISDM continues to engage with each cohort of PGP-DL graduates towards nurturing continued reflective practice and learning towards co-creating a body of knowledge which is informed by their practice and evolves with their engagement. With this vision in mind, the ISDM Knowledge and Research Centre is launching a longitudinal study with ISDM alumni to learn from the impact trajectories of leaders having gone through transformative learning experiences in early years of their engagement with the sector akin to that of the PGP-DL. The study shall build insights into the nature of challenges, opportunities and constraints encountered by leaders and managers in their journeys of 'becoming' and 'doing'.
Duration: The study spans over a 15-year period and will work with responses shared by ISDM PGP-DL alumni.
Our aim is to create evidences and literature on the trajectory of leaders and managers in the Indian social sector.
Highlights of the study!
Release of study reports every 3 years on Leadership trajectories of ISDM Alumni
Annual features on leadership journeys of ISDM Alumni sharing stories of challenges, learning needs, practice innovations towards transformative change.
Research Design that accommodates for shifting needs and life circumstances of Development Leaders and Managers over time
Contribute to the Study!
Take this 30 minutes survey

as your contribution towards building a Body of Knowledge on Development Leadership and Management.

Participate in the qualitative study

that probes further into the leadership trajectories of ISDM Alumni. Write to us at

research@isdm.org.in

to participate in the study.
For any queries on the longitudinal study please reach out to us at research@isdm.org.in or drop in for a cup of tea at the ISDM campus.