Introduction
The Post-Graduate Programme in Development Leadership (PGP-DL) is aimed at developing professional, socially-aware, deeply sensitive, reflective managers and leaders for the full spectrum of organisations in the Development Sector including voluntary organisations, corporate social responsibility entities, social enterprises, not-for-profit NGOs and Companies, funding organisations, social impact investors, etc. Therefore, the curriculum has been carefully designed to provide students with relevant knowledge, its contextual application, critical-thinking, problem solving skills while promoting the importance of collaboration and value-based decision-making.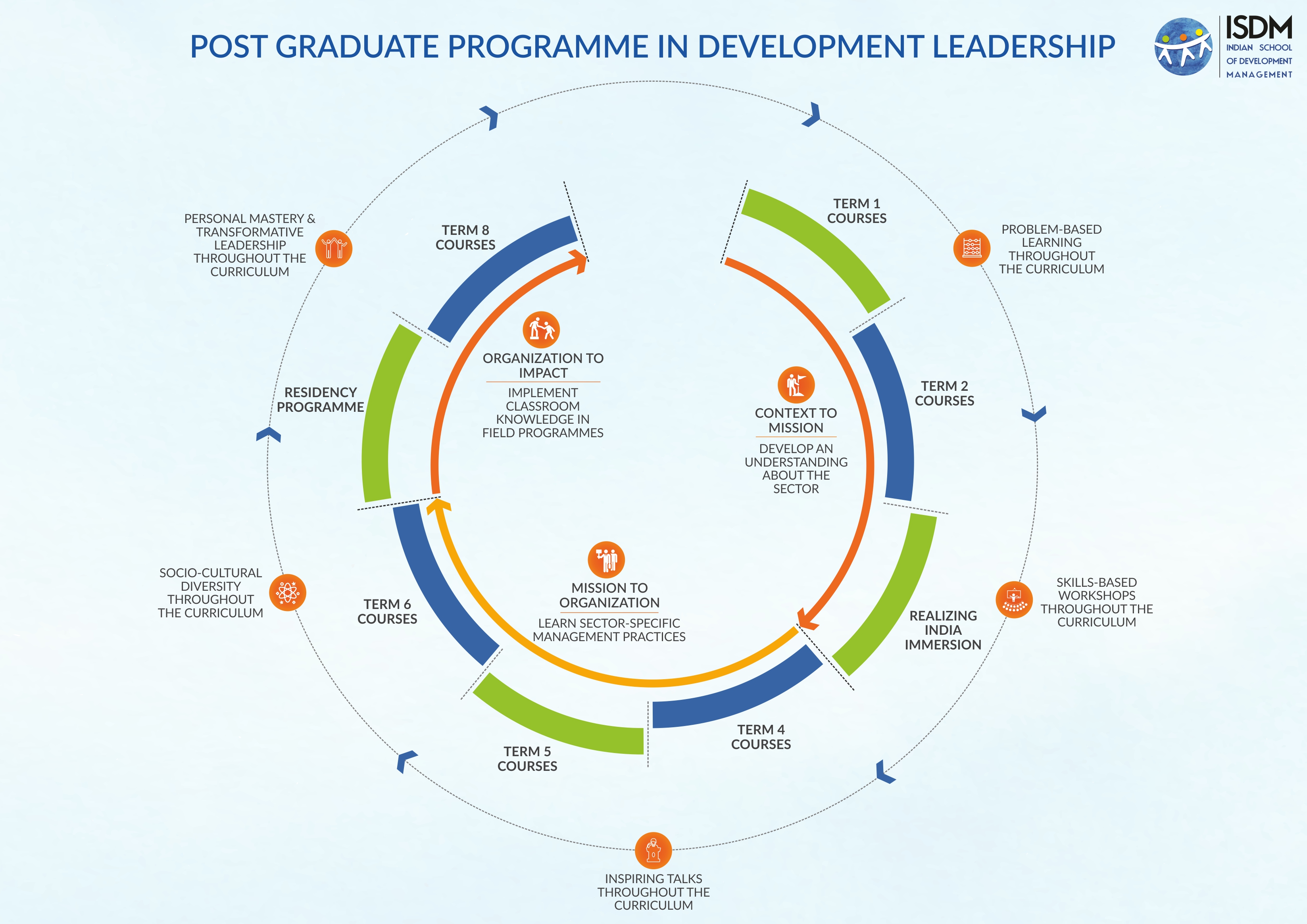 The PGP-DL curriculum has been designed with several parallel learning processes to make it holistic and organic.
ISDM's pedagogic and curriculum philosophy is anchored in the Problem-Based Learning Methodology. The approach requires students to enquire into problems and create appropriate solutions by accessing, analysing and synthesising knowledge and applying them in context. The PBL approach is woven through the entire programme. PBL creates an active and integrated process where learning is student centric and teachers are seen as facilitators who provide the scaffolding for open ended problem solving, developing students' intrinsic interest in subject matter, promoting group work and helping students become self-directed learners.
Knowledge courses lay the foundation by providing the necessary knowledge for students to engage with, and curate, for their PBL. At ISDM, students will get opportunities to construct knowledge through a process of engaging with practitioners, theoretical frameworks and concepts, hands-on field experience, collaborating with highly motivated peers, and being taught by some of the best professionals in the field.
Working in the development sector requires students to have an understanding of self - a sense of purpose, action – reflection, and the conviction and perseverance to work in the sector over the long term. Personal Mastery for Development Leadership is a set of workshops aimed to create a strong foundation for the development of some critical values and perspectives by focusing on professional ethics, skills and abilities. It introduces the rationale for these professional ethics, skills and abilities, and initiates the practice of the same. Their fuller, more nuanced development will take place through application, reflection and coaching.
These layers are complemented by interactive spaces for application and integration of the classroom learnings. Students get the opportunity to make sense of the field reality during the field immersion and residency. Creative spaces like 'Context Sharing', 'Baithak', 'Realising India's Socio-Cultural facets', debates, film shows, book/article discussions etc. make the learning process more dynamic.
The Post Graduate Programme in Development Leadership offered by ISDM is not accredited by UGC or AICTE and a Certificate would be provided by ISDM on successful completion of the same.
Programme Overview
Campus
Life@ISDM
Fees & Financial Aid
Apply Now