DIRECTOR'S MESSAGE
Dear Readers,

Greetings from the Indian School of Development Management (ISDM)!
Ravi Sreedharan,
President
(Founder, ISDM)

Sharad Agarwal,
Director
(Founder, ISDM)
CENTRE OF PHILANTHROPY
FOR SOCIAL JUSTICE
The 2022 Philanthropy & Social Justice Conversation Series
This series features conversations with thought leaders and practitioners on the need to reshape the role and tap the potential of philanthropy for social justice in India. In the last few months, we released two new episodes as part of the series.
Episode 2: Rati Forbes
In this episode, Rati Forbes, Director, Forbes Marshall and Head, Forbes Marshall Foundation is in conversation with Urvi Shriram, Lead, ISDM CPSJ. The episode included discussions on the essential difference between charity and philanthropy and how philanthropists can add greater value to the social purpose organisations that they are associated with.
Watch the video here.
Episode 3: Aniket Doegar
This episode features Aniket Doegar, Founder and CEO, Haqdarshak, in conversation with Urvi Shriram. The episode focused on the need to empower communities most affected by social inequities that organisations and funders are trying to address for sustainable impact.
Watch the video here.
ISDM CPSJ Research Fellowship program
The ISDM CPSJ Research Fellowship program opened for applications on April 1, 2022. As of June 2022, the program has received 50+ applications. This part-time program of 18 months is due to begin in August 2022 and will enable fellows to share their research with each other, receive peer feedback from subject experts and international faculty, and build a supportive community of inquiry through a hybrid mode. Currently, the external selection committee members are evaluating the top ten proposals, out of which five will be selected. The orientation program for the selected fellows will be held on August 2, 2022.
Other updates
In July 2022, Ria Sinha and Urvi Shriram will present a paper titled "From Charity to Social Justice: Insights on Rethinking Philanthropy in India" at the International Society for Third Sector Research conference. The paper is based on insights gathered from academic and practitioner literature, philanthropists, funders and change makers who have supported social justice causes in India. It highlights the opportunities and challenges faced in reshaping philanthropy's role and responsibilities in helping create a more just, sustainable and equitable country. The study identifies the key elements required to make a shift from "cheque book philanthropy, which addresses gaps in society but often does not solve the root causes of social problems, to embedding a "social justice" lens in philanthropy.
LEARNING PROGRAMS AT ISDM

Welcoming Prof. LS Murthy as Dean, ISDM

Prof Murty (or LS as some people call him) is a mechanical engineer-turned-operations management professional with a primary interest in operations planning and strategy, and a co-curricular interest in teaching methodologies and problem-solving approaches. Besides teaching various courses at master's and doctoral level management programs, Murty also has designed and conducted executive education programs across organisations. Prior to ISDM, he has taught at and held leadership positions at renowned institutes including IIM Bangalore, IIM Nagpur, IIM Visakhapatnam, XIM Bhubaneswar, XLRI Jamshedpur. He is an alumnus of IIM Ahmedabad.

Post Graduate Program in Development Management (PGP DM)
The PGP DM class of 2021-2022 added more to their knowledge and skills pertaining to the landscape of corporate social responsibility and scale and sustainability as part of Term VII and Term VIII, respectively. This also marked the end of the program for this batch.
Term VII (April 18, 2022 - May 22, 2022)
The larger objective of this term was to understand the landscape of corporate social responsibility and the nuances of technology in management. The term also provides an opportunity to choose electives that enable critical thinking in the areas of social entrepreneurship, behavioural economics, digital marketing and impact investment. Here is an overview of the modules covered in this term:
Corporate social responsibility and sustainability
This course put into perspective the fundamentals of corporate social responsibility in the present-day Indian context, with an introduction to the wide range of regulatory requirements, the imperatives from the corporate context and the divergent needs of non-governmental organisations. The sessions were a mix of presentations and classroom discussions, with inputs from practitioners from the field.
Behavioural economics
This course introduced the students to develop and assess development policies using experimental research designs in a workshop setting. The students gained an in-depth understanding of behavioural economics theory and causal theory underlying experimental research.
Technology in management
The course aimed at demystifying technology and exploring the ways in which emerging technologies can be leveraged to solve on-ground social issues. The students engaged in understanding the digital transformation process through its application on a given problem statement. The course covered concepts such as data analytics, quantitative and qualitative data, data science, business intelligence, designing dashboards, big data, artificial intelligence and machine learning.
Social entrepreneurship
The course helped the students delve deep into the concepts of product-/service-based businesses and their impact on the consumers through the Business Model Canvas developed by Strategyzer AG. The focus was on the idea that many social problems may be possible to solve on scale and in a financially sustainable way using a Social Entrepreneurship model as different from the Grant based model.
Introduction to digital marketing
In this course, students gained basic familiarity with digital marketing concepts, with an emphasis on the promotional aspects of digital marketing including paid vs organic marketing, ad types, ad platforms, inbound marketing and marketing funnels. They also understood key metrics related to digital marketing that should be optimised for success and factors impacting those metrics.
Introduction to impact investing
The course provided a strong conceptual understanding of the economics of social finance, specifically impact investing in the Indian context, assessing the evolution of this space and insights on the key industry issues through lectures and case studies of well-known impact investors and their use of different social finance structures.
Workshop on volunteer management
The focus of the workshop was on understanding what motivates a volunteer, what constraints them, and therefore what one can do to engage with the human resource that is available.
Term VIII (May 23, 2022 - June 24, 2022)
The final term of the PGM DM is a capstone term focused on scale and sustainability. Students learn different strategies for scaling impact in the social sector through case studies, guest lectures and panel discussions. Primarily, the students learn four strategies in this term: scaling up, scaling out, scaling deep, and scaling vertically. The unique features of this term include:

Faculty
Guest lectures across topics were conducted to enrich the learning experience of the students.
A girl's unflinching spirit! - A blog by Aishwarya Shrivastava, Class of 2021-2022
In this blog, Aishwarya charts the journey of a young girl from Pali, Rajasthan. This young girl defies all odds to attain education and employment in a village where patriarchy and old-age norms restrict women to the household with no access to education or opportunities. Read here to know about her inspiring journey.
STRATEGIC CAPACITY BUILDING
In April 2022, ISDM launched the first batch of the Women on Boards program. It is an immersive program customised for women corporate professionals and entrepreneurs to take on advisory and board-level roles in social purpose organisations.

ISDM is delighted to share that the first batch successfully concluded in June, 2022 and the closing ceremony was held on June 18, 2022. These 24 dynamic women will be placed on the boards of social impact organisations. You can watch the closing ceremony of the founding cohort here - Closing Ceremony for the Founding Cohort of Women on Boards!

Speaking at the closing ceremony, Chief Guest, prolific sector leader and board member, Poonam Muttreja shared "There is no doubt that it is important to induct more women on boards, for more reasons than diversity. The leadership styles of women leaders globally, including during COVID-19, have been described as more collective than individual, more collaborative than competitive and more coaching than commanding. These are lessons for all of us, as we wish to become effective leaders on boards."

Applications for the second cohort are now open till 7th August 2022. To know more about the program and apply, click here! In case of any queries, you can reach out to us on WhatsApp at 8287523698 or write to us at womenonboards@isdm.org.in.
Digital Transformation
ISDM's Strategic Capacity Building vertical is focused on offering digital and social learning programs to support a wide range of stakeholders, including early tenured professionals, mid-level to senior-level management, and volunteers in the Indian social sector space, in their journeys to lead their organisations and teams more effectively. Our mission is to equip social sector leaders with the tools, techniques and frameworks that would help them in the most critical aspects of their projects: for instance, fundraising, OD, and data analysis, among others. To this effect, we will offer immersive micro-learnings/ knowledge nuggets specifically catering to the learning/upskilling needs of our partner SPOs and the wider ecosystem.
Our focus remains on offering such procedures, tools and frameworks critical to professionals and organisations for scale; collaborating with other organisations as knowledge partners, and building a library of resources for professionals in the social sector.
To know more, reach out to us at: womenonboards@isdm.org.in
RESEARCH IN DEVELOPMENT MANAGEMENT
Talent Matters!
ISDM's research study, Benchmarking Talent Management in the Indian Social Sector, has been receiving a positive response from the sector, with more than 200 social purpose organisations signing up to participate in the empirical exercise. The objective of the study is to create knowledge resources that can be leveraged by SPOs to make informed decisions related to talent management. The study will delve deep into how talent is defined by an SPO; the strategies adopted to manage talent; a deep dive into the management values, systems and processes and document the challenges related to talent, and the best practices adopted to mitigate them. Further, the study will benchmark compensation across different types of SPOs.
So far, 98 in-depth interviews have been conducted with 104 participants from SPOs, covering C-level executives, vertical heads, board members and human resource consultants. The draft report and initial findings are currently under review. In addition, motivation of SPO professionals to work in the social sector is mapped using an online survey. The findings will enable the social sector leaders and human resources professionals to make evidence-based informed decisions with respect to talent management practices.
To know more, write to us at research@isdm.org.in
PLACEMENTS
The placements for the PGP DM class of 2021-22 have been progressing successfully!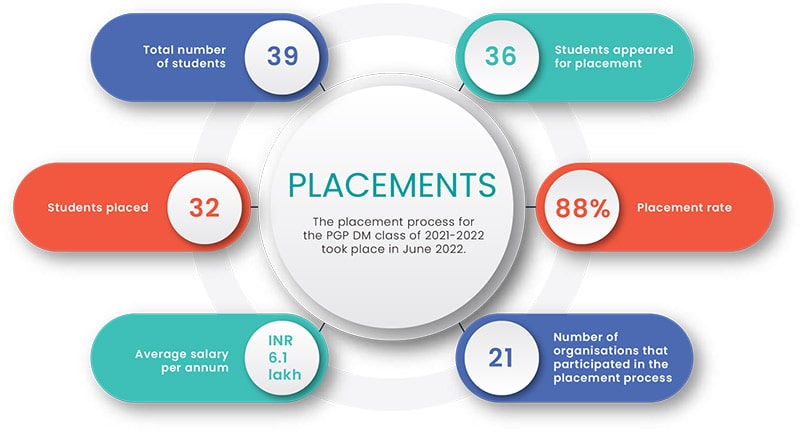 KEY PARTNERSHIPS
ISDM is grateful to our supporters for their trust in our vision and our work. The ISDM family is thankful to Ambarish Raghuvanshi for his support as a Founder Sponsor. We are also very grateful to Jaya Murthy and SK Jain for their continued support and trust in ISDM.
Annual Report for Donors, 2021-2022
This quarter marked the beginning of the new financial year at ISDM. In that context, the team developed a comprehensive annual report for the donors to showcase the progress made and the impact created through the funds received. The team also conducted grant audits for corporate donors.
Strategic Grants
Over the years, ISDM has largely received funding in the form of core grants by individuals and organisations who deeply believe in the overarching vision of scaling and mainstreaming Development Management to deliver sustained social impact. Moving forward, ISDM encourages donors to consider funding more strategic grants supported by clearly defined work deliverables. In that regard, ISDM has identified projects that could receive funding over the next three years (2022 - 2025):

| | |
| --- | --- |
| Meet and Greet | As pandemic-related restrictions eased out, ISDM hosted a few donors. Teams from the Ford Foundation and NatWest India Foundation visited the campus and interacted with ISDM's team and students. |
LIFE AT ISDM

Alumni Meet

ISDM hosted multiple alumni meetings in Delhi (June 19, 2022), Ahmedabad (June 26, 2022) and Bengaluru (June 29, 2022) under the Guftagu initiative. The meetings proved to be a helpful platform for facilitating interaction between members of the previous batches and the current students at ISDM. The participants shared experiences, successes and learnings, and most of all, had a good time!
Development Managers in Action
Anshul Shah
Officer, Skill Education, LAHI
Class of 2019

Anshul, an alumni of PGP DM class of 2018-2019, was recognised as a "Promising Young Professional, 2021-2022" at his organisation, LAHI. His dedication towards his work has made him the go-to person for all interventions and efforts related to scaling of programs at the organisation.

Rukaiya Khan
Cluster Head, Lighthouse Communities
Class of 2019

Rukaiya, an alumni of PGP DM class of 2018-2019, was recognised by her organisation for her contribution in helping drop out students to complete their High School Education, under the aegis of the Youth Innovation Fund Project 2021.
Welcoming New Members
Hatim Sham
Graphic Designer and Video Editor, Marketing

Hatim is a film editor, graphic designer, DI-colourist, and a motion designer. He has more than 6 years of international industry experience. He completed his graduation at GLS Univer- sity Ahmedabad and joined IIT Gandhinagar as a full-time media executive. He has extensive experience in creating visual content for documentaries, short films, educational films & corporate videos. From his long editing & colourist credentials & his directing abilities, his knowledge, and experience set the tone for many productions in India, and abroad.

Read more here.

Pooja comes with seven years of experience in the Education sector. She started her career with the Teach for India Fellow- ship. After the fellowship, she enrolled for a MA degree in Educa- tion from Azim Premji University. Her master's thesis was on Understanding the role of Pre-Service Teacher Education in Teacher Professional Development. She has worked with Azim Premji Foundation, Rishi Valley School, Chudar Education, Tamil Nadu Education Department and Cambridge University Press as a teacher trainer and curriculum developer.

Read more here.
Maaz Shariq
Associate, Operations, Global Knowledge Hub

Maaz is an alumni of BITS Pilani. He describes himself as a knowl- edge enthusiast passionate about brand management, adver- tising, and marketing for social impact. He comes with four years of experience spanning across educational administration, program management, learning management systems, impact evaluation, and operations. Presently, Maaz is working towards building and promoting the global knowledge hub at the Indian School of Development Management for creating sustainable social impact at scale.

Read more here.

Shreyasi holds a Bachelors and Master's degree in Political Science. In 2020, she obtained her PGDL from the Indian School of Development Management (ISDM). Previously, Shreyasi has worked as an Instructional Designer, Technical Writer (Learning and Development) and Assistant Manager (Learning and Development) across organisations. Her areas of interest include developing engaging content and designing visually attractive creatives.

Read more here.
With over six years of diverse work experience in a business school, digital marketing agency and a corporate training multinational, Prateesha comes with a holistic outlook toward marketing and content development. Through these years, she has collaborated with globally-recognised brands such as Salesforce, Deloitte, LG, MediaTek, OPPO and KPMG in India, that have helped her hone the skill of acquiring, writing and strate- gising outcome-driven content for e-learning courses, websites, product landing pages, paid ad campaigns and social media platforms.

Read more here.

Siddharth is a postgraduate in Film and Media Studies from B.R. Ambedkar University, Delhi. He also holds an Honours degree in History from Kirori Mal College, University of Delhi. With a back- ground in research and academics, Siddharth believes in an interdisciplinary approach toward research, where qualitative research and a strong academic base can be used to build effective interventions within society. Some of his research interests include History, critical studies, and sociology, as well as media development.

Read more here.
WHAT ARE WE READING?
Here's a peek into what our students, faculty and staff are reading
Social Entrepreneurship in India: Quarter Idealism and a Pound of Pragmatism by Madhukar Shukla

The book identifies patterns of successful social entrepreneurs as a person and how they function and proposes five broad but distinct types of Indian social entrepreneurs. It describes how social entrepreneurs, like any other entrepreneur, identify opportunities and gaps in the "market, "develop innovative solutions to address those problems, and use entrepreneurial strategies to build and scale their ventures.It also discuss the key problems of access to basic social goods (e.g., education, healthcare, credit, etc.) by the poor segment of Indian society, the challenges in servicing this segment and successful entrepreneurial models which social entrepreneurs use to impact their lives.
Transformative Scale: The Future of Growing What Works by Jeffrey Bradach & Abe Grindle
A number of social sector leaders, philanthropists, and policymakers are experimenting with ways to deliver impact at a truly "transformative scale. "This article highlights nine pathways being explored by various pioneers in their efforts to solve social problems in the United States and abroad. The approaches proposed in the paper aren't exhaustive, nor are they necessarily new. But they represent a set of experiments that build on all our progress to date and could grow impact in ways that lead to lasting solutions.
Contact Us: C 20/5-6, Sector-62. Noida, Uttar Pradesh 201301. (Opposite JSS Academy of Technical Education) | Phone: +91 99997 88216 | Email: contact@isdm.org.in