Blog: SHGs in Assam
November 27, 2019
Under The Shadow Of Wild Elephants, Marginalised Women Take Giant Strides
Minoti Das lived in a perpetual state of dependency; dependency on her family, her neighbours, the agricultural middlemen, the public distribution shop, the usurer and wild elephants. Can something as simple as a Self Help Group (SHG), help this woman living on the fringes of our society, to walk a new path of true liberty?
If there was just one thing that could define the Bishnupur village in Chirang district in Assam, it would be wild elephants. Located next to the Manas National Park, villagers have stopped growing rice and potato because of the wild animal attacks.
"It was here last week, eating jackfruit", says Parthana Das, pointing to the half-eaten low hanging jackfruit in their backyard.
Wild elephants and boars wreak havoc here. However, families revere elephant as Gajraj and offer prayer and floral tributes, but from a distance. Over the years, the communities have also evolved ingenious ways for livelihoods, which wild animals are not fond of: areca nut and lemon.
A predominantly marginalised Scheduled Caste village, this area sees large scale distress migration of men to urban areas as far as Kerala, in search of work. Within this framework of marginalisation and uncertain livelihoods, the status of women here is even worse, in terms of resource ownership or access to information.
When NGO SeSTA formed the first SHG in this village, with no pucca road connectivity, the idea of a community-driven institution that would cater to emergency credit needs immediately appealed to the women. In the last four years, this village saw more than 100 women being associated with 8 SHGs. The SHGs meet every week and each woman saves a small amount that goes to the common pool. Every SHG has got revolving funds of Rs 25,000 to Rs 50,000 from banks. These funds, along with their savings are used to cater to most of their credits needs today, ranging from housing investment to medical needs. To top it all, the interest rates for their loan are decided by the women themselves.
For women like Minoti Das, SHGs are not only important institutions but are very much part of their identity.
"I don't have to constantly worry about money now. I have my group for my emergency needs."
For many women in this village, this unique experience of working together for the first time outside their everyday roles and addressing them and the needs of their families has instilled in them new confidence. Moreover, with large scale seasonal migration of men from the village, SHGs have become a platform for solidarity and support for the women here.
"I am not scared of expressing myself anymore," Minoti says with a smile, revealing her missing frontal tooth.
Interventions in livelihoods by SeSTA have also helped them learn new skills. Introduction of inter-cropping and line sowing in lemon and areca nuts along with periodic usage of vermin compost (women are trained to make their own vermin compost) and pruning as well as weeding, has significantly improved production.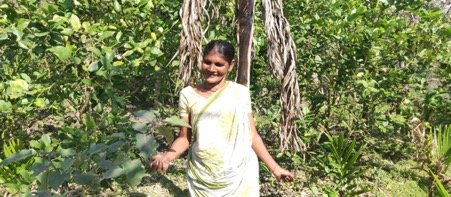 I have earned more than Rs 9,000 selling lemons", says Minoti with a tinge of pride.
"Who would have thought that an old woman like me would decide how much money to borrow to repair the house?"
Minoti Das has just borrowed Rs 10,000 from her SHG to repair her kaccha house. Parthana Das, squatting nearby, nods.
"Lahay Lahay, kintu akay logay ami aag barhim", she says. (It might be slow, but we will move forward, together.)
By Monica Chauhan, a student of 2nd batch of PGP in Development Management at ISDM.
Source: https://www.youthkiawaaz.com/2019/06/under-the-shadow-of-wild-elephants-marginalized-women-take-giant-strides