CPID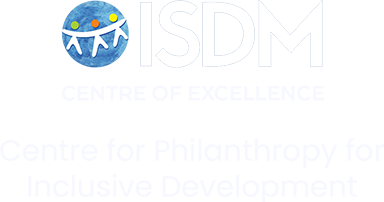 Centre for Philanthropy for Inclusive Development (CPID)
Our Vision
Philanthropy that strives for sustainable social change by tackling root causes of social and economic inequities and empowering the underserved communities.
Our Mission
Knowledge and Research - create and disseminate high-quality actionable knowledge on effective, inclusive philanthropy to inform and shape philanthropic practices and approaches
Networks and Partnerships- lead the conversation on social justice philanthropy to strengthen the community of changemakers for sustainable social change
Practice - impact philanthropic practices and approaches through convenings, events, workshops, learning modules, etc with evidence generated by the Centre
Our Values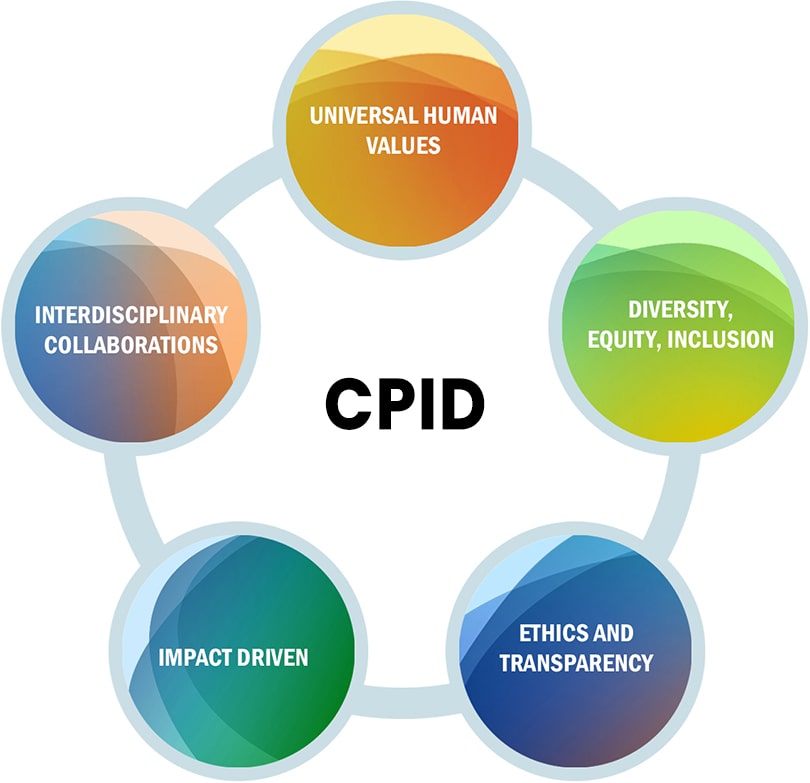 "It is with great excitement that we have set up the Centre for Philanthropy for Inclusive Development at the Indian School of Development Management. Philanthropy in India is at a very exciting juncture with a lot of growth and movement towards more structured and strategic giving. The moment needs giving that is more attuned towards reducing deeper structural and entrenched inequalities and advancing an equitable and just society. We need to create, co-create, trigger and share new knowledge about philanthropy in India. It is our hope that we become a hub of knowledge creation and dissemination on philanthropy for social justice."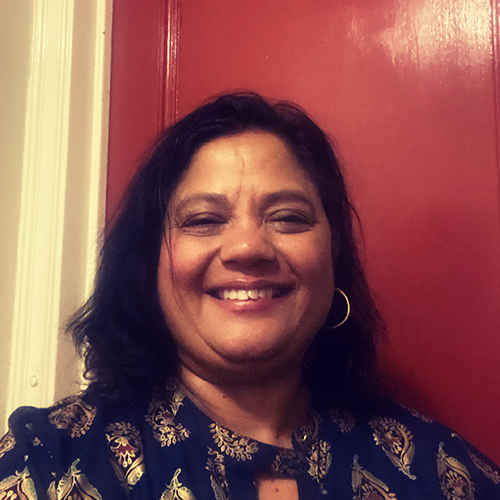 - Latha Poonamallee, Academic Director, CPID
Our theory of change
Philanthropy has immense potential to test new ways of
promoting equity, efficiency, and humaneness in social programs
bridging the gaps in development.
With autonomy and access to resources, philanthropy can be viewed as society's risk capital that can be directed towards currently underfunded complex issues, geographies and for solving the fundamental social problems of underserved communities.
We are currently witnessing the emergence of several new models of philanthropy, social innovation and new practices of social purpose organisations for addressing complex social issues.
This calls for the creation and dissemination of new knowledge, and informing and updating practices of a new generation of leaders, practitioners and the academia to enable them to implement approaches to social problem solving in ways that promote justice and equality for all.
Core areas of work
The Centre's objective is to engage with philanthropists, development practitioners, key government institutions, corporate sector and social sector organisations to:
Curate, create and disseminate research on effective philanthropy.
Design viable tools, metrics and learning programs that enhance the effectiveness of practitioners.
Create partnerships and networks to strengthen the community of philanthropists for systemic change.
Key stakeholders
The primary stakeholders for the Centre are:
Funders and donors (family/ individual/ retail philanthropy and CSR)
SPOs that engage in causes of social and economic inequities and empowering the underserved
The Centre also seeks to collaborate with stakeholders such as development practitioners, intermediary organisations, wealth and family office advisers, impact investors, policymakers, global and local philanthropy networks, platforms and centres and academia.
Our team
The CPID team works at the intersection of philanthropy, behavioural sciences, development management, business management and design thinking to accelerate learning for philanthropists and others in the donor-support ecosystem. CPID works closely with ISDM's academics team, faculty and partner organisations to develop cutting edge knowledge.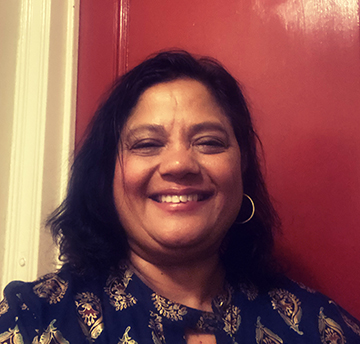 Latha Poonamallee
Academic Director
A professor, researcher, tech entrepreneur, Fulbright Fellow, and thought leader on Management and Social Justice, Dr. Latha Poonamallee is the Chair of the Faculty of Management and University Fellow at The New School, New York City. She is Co-Founder and CEO of In-Med Prognostics Inc., the first company to provide ethnicity-specific neuro assessment reports, biomarkers, and surrogate endpoints relevant to all people, everywhere. Dr. Poonamallee is also the Founder of C-Suite for Justice, a community of senior executives committed to making their organizations more inclusive, just, and equitable.

She received her Ph.D. in Organizational Behavior from Case Western Reserve University, Cleveland, Ohio.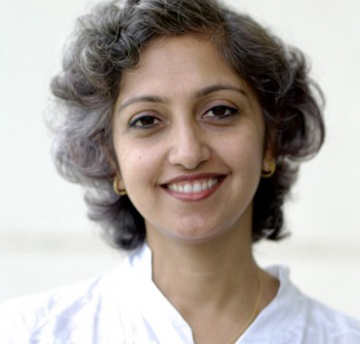 Trisha Varma
Director, Global Knowledge Hub
Trisha comes from a background of market research & data analysis, market strategy, and marketing. She is the founder of a consulting company and previously worked with Procter & Gamble, first in India, then in Singapore. While she lives in Singapore, her heart continues to remain in India. Contributing in some shape and form to social development has been her long-standing desire, and, with ISDM, she hopes to be able to do both – be a part of the development sector in India. She has had some experience working for her alma mater's social service league, and more recently, with a global marine conservation fund, a migrant workers support group, and an Indian coalition to fight the pandemic and drive change. When not working, she's deeply engrossed in long chats with her pre-teen and teen, playing with the newest addition to the family of the 4-legged kind, reading, eating, travelling, trekking and organising vacations for family and friends (and herself)!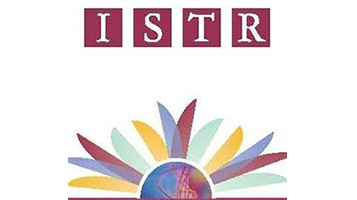 Charity to Social Justice: Insights on Rethinking Philanthropy in India
CPID's working paper based on insights gathered from academic and practitioner literature, philanthropists, funders, and change-makers in India is published in the ISTR conference working paper series.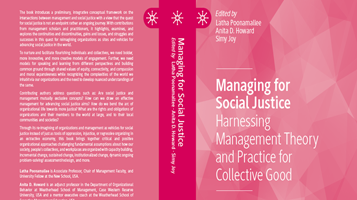 Shifting from Charity to Justice: A Recasting of the Role of Philanthropic Organizations in the Indian Context
CPID's Urvi Shriram, Ria Sinha and Mallika Luthra contributed a chapter to Management and Social Justice: Harnessing Management Theory and Practice for Collective Good edited by Simy Joy and Anita Howard.
Panel Discussion I Implications of the shifts in the philanthropy ecosystem on social justice
As part of our effort to build perspectives and knowledge on philanthropic practices and strategies, ISDM-CPID organised an in-person discussion on the Implications of the shifts in the philanthropy ecosystem on social justice to understand how funders and social purpose organisations can effectively work together and meaningfully engage with communities for sustainable social change.
Philanthropy and Social Justice Conversation Series: Episode 6
In this episode of the series, Amit Chandra, Chairperson, Bain Capital India discusses how private philanthropy can be entrepreneurial, innovative, take risks and complement government efforts to achieve impact at scale.
Online Webinar I Decolonising Philanthropy: What and How
Watch Urvi Shriram, Lead, ISDM-Centre for Philanthropy for Inclusive Development in this engaging panel discussion organised by Alliance Magazine on what 'decolonising philanthropy' means and examining the wider assumptions on the dynamics of 'giving' between a dominant social group and the rest of society.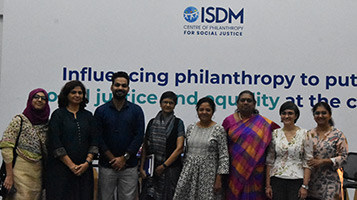 ISDM CPID RESEARCH FELLOWSHIP CONVENING
The first quarterly meeting with the first cohort of the ISDM-CPID Research Fellows, 2022-23 was held at the ISDM campus on October 17th-18th, 2022. The two-day event was marked by new learnings and interactions with the five research fellows who made detailed presentations about their research fellowship, followed by an interactive workshop facilitated by Dr Latha Poonamallee, and Ria Sinha.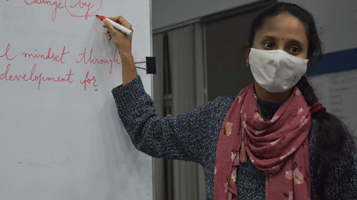 How philanthropy can enable systems reforms for more equitable school education in india
ISDM-CPID's Urvi Shriram and Shubhi Sharma in this blog for AVPN discuss how philanthropy's ultimate role is to inform policy and system reform that bring change at scale, and help the government implement strategies and processes to uplift the bottom half of the segment.
Philanthropy and Social Justice Conversation Series: Episode 5 with Puja Marwaha, CEO CRY
In this episode of the series, Puja Marwaha, CEO CRY discusses the key pillars of rights-based and justice-oriented giving, and the challenges faced by philanthropists in tackling deep-rooted social injustices.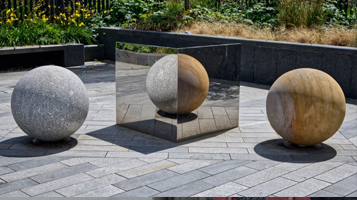 Decolonising Philanthropy: From conceptual apprehension to functional progress
Read this piece by Urvi Shriram (Lead, ISDM CPID) and Dr Shonali Banerjee (Senior Research Associate, Cambridge Judge Business School) on Decolonising Philanthropy and embedded power structures in the act of giving in a special feature by the Alliance magazine guest edited by the two authors.
Philanthropy and Social Justice Conversation Series: Episode 3 with Aniket Deogar, Founder and CEO Haqdarshak
In this episode of the series, we discuss how philanthropy can empower the communities it supports for sustainable social change.
Philanthropy and Social Justice Conversation Series: Episode 4 with Luis Miranda, Co-founder and Chairman, Indian School of Public Policy
In this episode of the series, we discuss the challenges related to fundraising in the social sector as well as how to take a social justice lens in philanthropic interventions.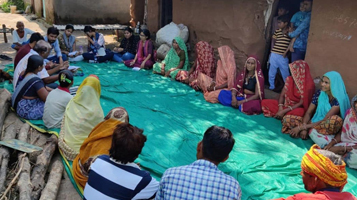 Reinventing the role of Philanthropy for Social Justice in India
Urvi Shriram, Lead, ISDM-Centre for Philanthropy for Inclusive Development, writes for AVPN blogs and shares her views on why it is critical to have a deliberate and sustained focus on embedding social justice and equality in giving for transformational change.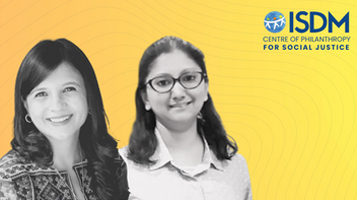 International Society for Third Sector Research
Urvi Shriram, Lead, ISDM-CPID and Dr. Ria Sinha, Research Lead, ISDM-CPID presented the paper 'From Charity to Social Justice-Insights on Rethinking and Reshaping Philanthropy in India' in the session 'Attitudes about philanthropy and its role: Strategies and roles' of the 15th ISTR Conference (International Society for Third sector Research) 12-15th July, 2022.
Imperatives for Social Justice Philanthropy in India
Dr Ria Sinha, Lead, ISDM-CPID recently made a presentation at the 82nd Academy of Management Meeting, Seattle for a session on ' Managing for Social Justice: Harnessing Management Theory and Practice for Collective Good'.
Philanthropy and Social Justice Conversation Series: Episode 2 with Rati Forbes
In this episode, Rati Forbes, Director, Forbes Marshall and Head of the Forbes Marshall Foundation, and Urvi Shriram, Lead-ISDM Centre for Philanthropy for Inclusive Development discuss the essential difference between charity and philanthropy and how philanthropists can add greater value to the social purpose organisations that they associate with.
The 2022 Philanthropy & Social Justice Conversation Series
This series features conversations with thought leaders and action leaders on the need to reshape the role and tap the potential of philanthropy for social justice in India.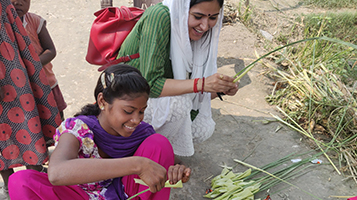 From charitable giving to social justice: Reimagining the role of philanthropy in India
Urvi Shriram (Lead, CPID) and Dr. Samar Verma (Program Officer at Ford Foundation for Technology and Society, Future of Workers, and Philanthropy) share their views on approaching philanthropy through the frame of social justice giving, based on data and knowledge.
Target 2030: Launch of the Centre for Philanthropy for Inclusive Development
The CPID was launched at ISDM's annual Development Management Week in January 2021.
Listen to Target 2030: Mr. Sunil Munjal's Keynote Speech on Philanthropy Matters
Keynote speech by Mr. Sunil Munjal, Chairman, Hero Enterprise, on "how Philanthropy helps nations mitigate complex social problems" at Development Management Week, 'Target 2030: What Matters.
Listen to the Target 2030: Panel Discussion on Rethinking Philanthropy for Enduring Social Change | Philanthropy Matters
A panel conversation with Radhika Bharat Ram, Deepti Bopaiah, Soumitra Pandey and Gautam John to understand the role of philanthropy in filling the funding gap in order to achieve the Sustainable Development Goals 2030 and how philanthropy can empower underserved communities and aid the frontline initiatives.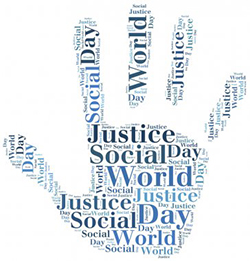 Annotated bibliographies on social justice and philanthropy
The purpose of this bibliography is to assist researchers and practitioners working in the space of social justice philanthropy to get a concise description of the available research (article/paper/report), evaluation, critical assessments and citations for further research.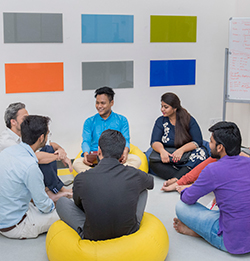 Research repository on philanthropy
The purpose of the repository is to enable researchers and practitioners to get quick access to knowledge artefacts such as working papers, reports, articles, etc. on various aspects of philanthropy and social justice.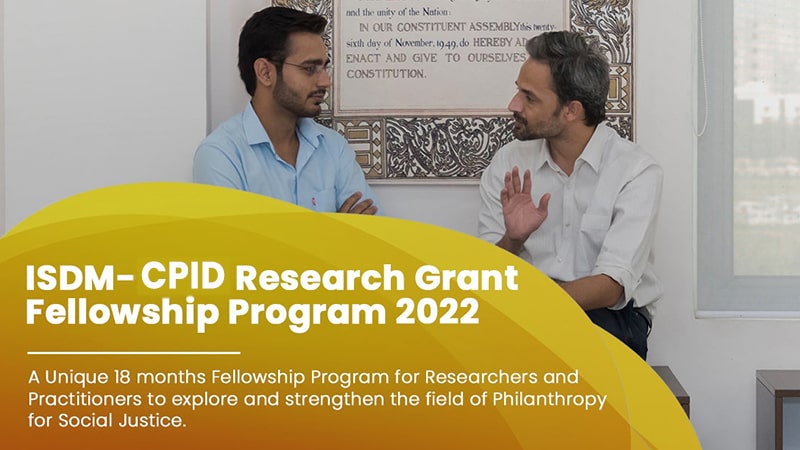 This part-time program is designed to enable researchers to add a social justice paradigm/framework to their existing work on philanthropy, create a cohort of practitioners who pioneer the change from traditional philanthropy to social justice philanthropy and ideate, create, produce new knowledge on social justice philanthropy and related aspects. Under this programme, five fellows will be selected each year starting July 2022 and provided fellowships to the tune of ₹ 3 lakhs for the program duration of 18 months (1.5 years).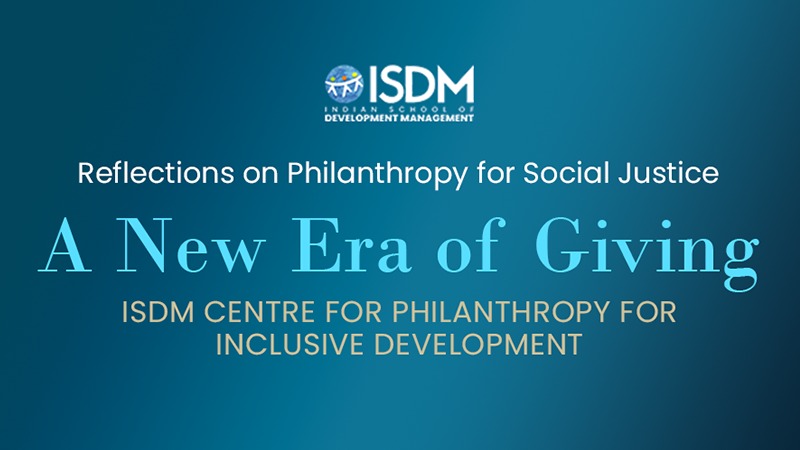 A New Era of Giving
In the titled A New Era of Giving, a series of essays edited by ISDM-CPID, thought leaders from across the globe weigh in on the issues and challenges that need to be addressed to make a shift from a charitable model of philanthropy to one that puts social justice at its core. From basic ethical questions about giving to worked examples and innovative finance solutions that have sparked real change, this collection is an important first step towards building a more equitable and inclusive society.
Connect with us
If you would like to collaborate with us to explore meaningful ways to support philanthropy and social change, please reach out to us at: cpsj@isdm.org.in